Yesterday, I scanned my blot from my last 2D gel. It had only been in the cassette for a little over 3 days, but I wanted to make sure that I had done enough washes to remove background, and if there was even something there worth mentioning.
This is what I got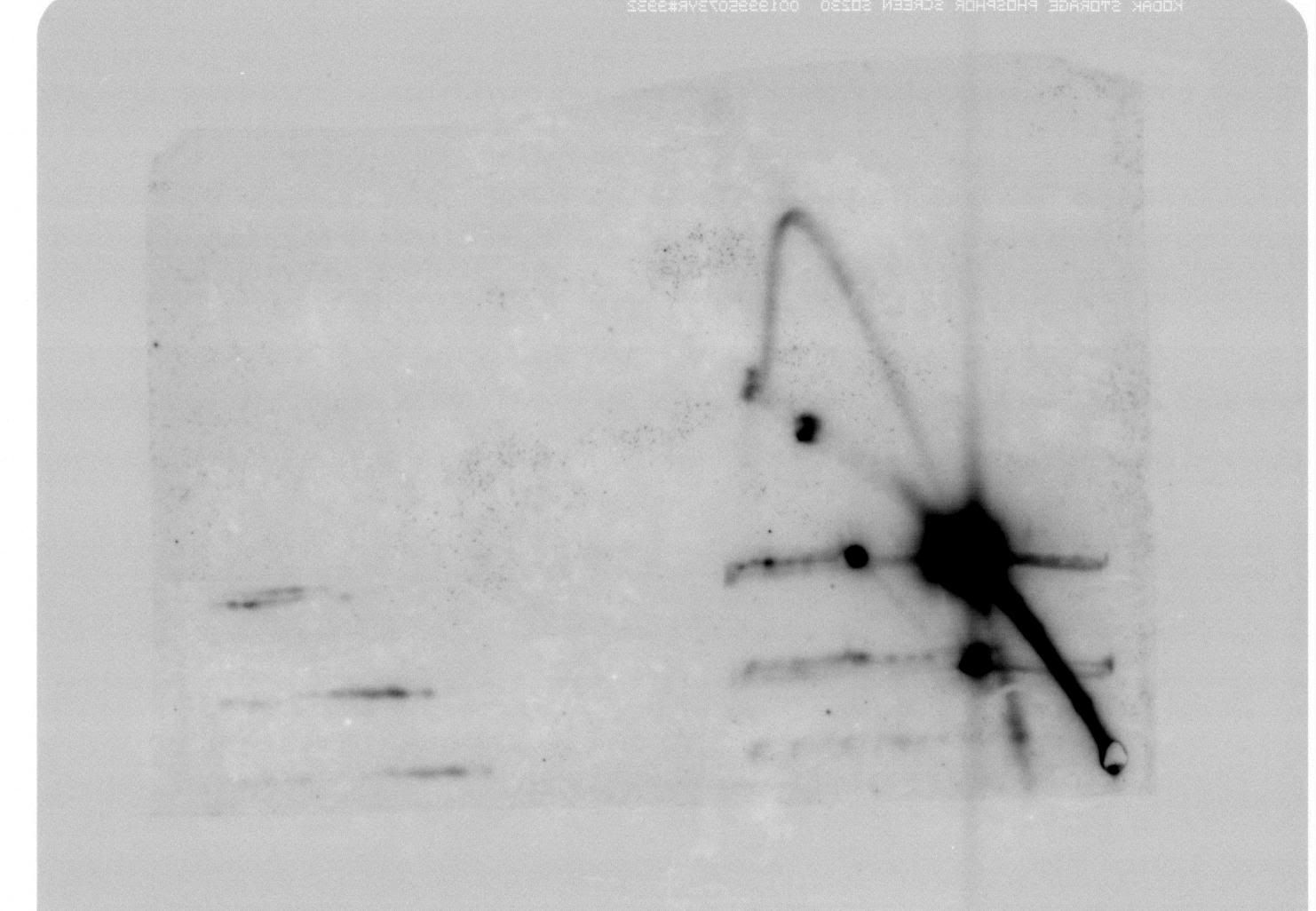 Yeah yeah, the left side didn't work at all. But CHECK OUT THE ARCS ON THE RIGHT! Now, God willing, letting it sit in the cassette for a full week will allow a fainter arc to develop underneath and to the....left of the arc on the right side.
BUT! It's the best 2D gel results I've ever gotten. So there you go. Using a BUTTLOAD OF BLAZING HOT HIGH SPECIFIC ACTIVITY probe actually gives results.
And yes, "buttload" is a scientific term.
*********************
I am still somewhat in denial that the day after tomorrow I'm getting on a plane and flying halfway across the country to meet a bunch of bloggers.
I should really think about packing.
**********************
I just got spam from someone with the email address minnagartman@blahdeblah.com with the subject line "wild date."
blahdeblah.com?
awesome.
***********************
Someone recently found my site Googling "sloth tossing."
double awesome.
***********************
Took the laptop back to CompUSA this morning, so they could get it sent off to Compaq. I should be getting it back in a week and a half to two weeks.
WAAAAAAAAAAH!!!!!
************************
I have a weird red bump on the side of my left calf. It looks like a weird insect bite of some kind, but there's no actual bite mark. But it's really sore when I touch it.
I should really stop touching it. But oddly...I can't. I keep thinking if I touch it enough, I will discover its mysteries.
REVEAL YOUR SECRETS TO ME, STRANGE RED BUMP!
************************
While I had my laptop for the night, I managed to get my ipod set up, and a few CD's copied onto it, along with whatever I already had in iTunes. I will be rocking out to Indigo girls and Fastball in KC this weekend. WOOHOOO!
I love it. It's girly pink and cool and very un-me. I am neither girly pink nor cool. The irony amuses me.
*****************
This may or may not be my last post until next week. I might sneak in a few audio posts while I'm there, to give everyone who's NOT in KC (losers. what?) the low down on everyone who is. Also I plan on taking many pictures. Expect a big photoblog entry in a few days.
later, yo!
|