Rushed day today. Got as much done at work so I could so I could get out by 4:30. Came home, blogged, IM bs'ed, and then attempted to clean for a few hours before running to Kroger to buy food and stuff for the party. gah! There's not enough time! and my place still isn't clean as well as it should be. I'll have to run the vacuum and clean the bathroom on saturday when i get home.
I have a choir retreat this weekend. So I won't be around friday evening and most of saturday. To top it off, I need to go into work for a little while both days. WORST. TIMING. EVER!
Trying to keep the menu relatively simply on sunday. BBQ pulled pork sandwiches (just throw the pork shoulder into the crock pot sunday morning). Goat cheese stuffed cherry peppers, cream cheese-guacamole and salsa taco dip, and miscellaneous candies and pretzels. To drink, two punches. Non-alchololic: ginger ale, strawberry kool-aid, and lime sherbert. Alcoholic: sprite, orange juice, pineapple juice, lime jello, and vodka. Mmmmmmmmmmm! My friends are bringing stuff too. There will be TOO MUCH FOOD!!! IT WILL BE GLORIOUS!!! If I can get ready in time!
and here's an adorable picture of sadie in her halloween bandana, begging for a treat.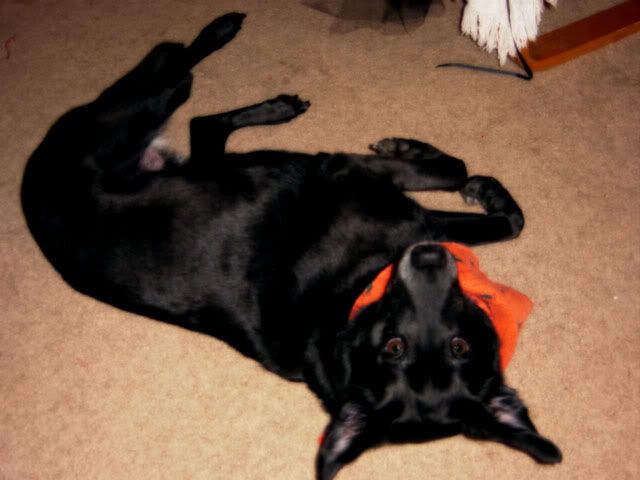 |