I have downloaded and installed the
Firefox browser
from Mozilla, and therefore have inched my way up the geek ladder somewhat. Seems to be working OK. I'm hoping to avoid any more nasty spyware incidents. Anyone else using it who has an opinion?
Once again, I have failed my dog as a mother. I've been promising to take her to the park now that the weather is nice a cool. I don't take her in the heat of summer, as she spends most of the time lying in my shade. Sucks to have a black fur coat in July in Atlanta. But now the weather is wonderfully cool and perfect park weather.
Yesterday I got home from work too late. Today, Kevin surprised me for our year and a half anniversary (we're so sweet it's pathetic, right?) with take out fried chicken, cole slaw, mashed potatoes, and super sweet tea from Mrs. Winners, apple pie and a chocolate bar, and flowers.
Best. Boyfriend. Ever.
Tomorrow is choir practice. So THURSDAY I WILL TAKE MY POOR NEGLECTED DOG TO THE PARK!!! And she will stop giving me those sad puppy looks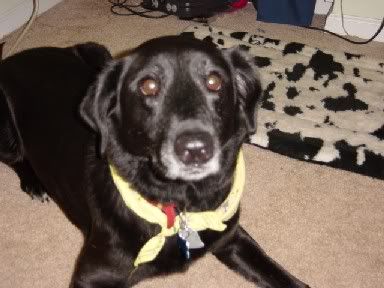 yeah, like that.
|